Want to earn HBAR from Hedera's Native Staking but you use a ledger wallet? This guide shows you how to sign up to Yamgo and stake your HBAR via a Ledger Device.
Setting up a Hedera Account on your Ledger via Yamgo is a straightforward process, but it does require a few steps to ensure that you have everything set up correctly. The following is a step-by-step guide to help you through the process and get you started with Yamgo.
Part 1 - Setting up your Ledger
The first step is to set up your ledger device and install the Hedera app. If you have previously done this you can skip straight to part 2.
Connect the Ledger Nano to your computer using a USB cable.
Download and install the Ledger Live app from the Ledger website.
Open the Ledger Live app and follow the instructions to set up your device.
During setup, you will be asked to write down a 24-word recovery phrase, which will be used to restore your Ledger in case you lose or damage it. Keep this phrase in a safe place and do not share it with anyone.
Once set-up is complete, you will be able to see your device's dashboard and add supported cryptocurrencies to your portfolio.
Open the Ledger Live app and go to the "Manager" tab.
Search for the "Hedera Hashgraph" app and click on "Install". Follow the on-screen instructions to install the app on your Ledger Nano.
Part 2 - Setting up your Yamgo and Hedera Account
If you have already created a Yamgo account you will need to either sign up again with a new email (recommended) or contact our support team (Support@yamgo.com)who will guide you through resetting the Hedera ID on your current account
The final step is to sign up for Yamgo and create your new Hedera Account:
Did you know?: Your Ledger Device can support multiple Hedera accounts so after you have created your new account you can simply move your HBAR to the new account and it will be staked to the node you choose during set-up
1. Head to Yamgo.com and register an account
2. Head to your inbox and click the verification link in the email you received from Yamgo
3. Sign in to your account and begin the process for setting up your Hedera Wallet
4. Log in to your Yamgo account and read the instructions on the page
5. Select "Advanced Account Creation"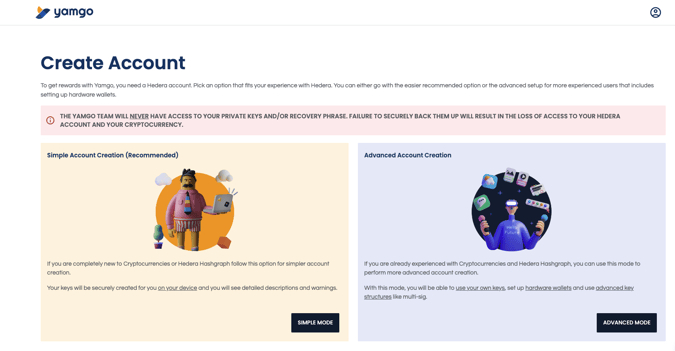 6. Next, Select "Use a Hardware Wallet"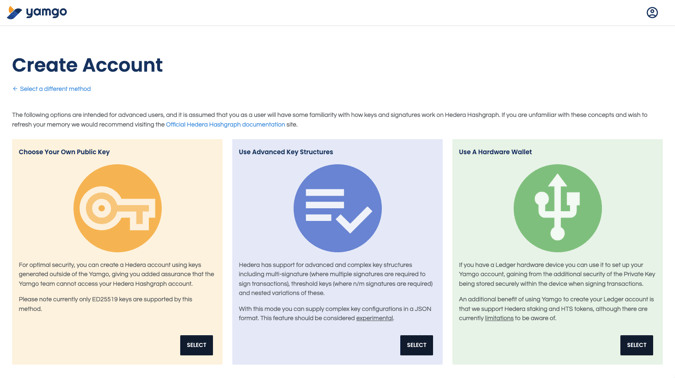 7. Make sure your Ledger is connected to your device. Also make sure that Ledger Live is closed.
8. Unlock your device, open the hedera app and press the "Click Here to Connect your Ledger Device"
9. In order to participate in staking you will need to select a node to stake to. You can see a list of available nodes here


Please keep in mind that although the Yamgo team has found methods to add PARTIAL SUPPORT for both NATIVE STAKING and the HEDERA TOKEN SERVICE on Ledger devices, there are some known limitations to be aware of:

A) When setting up your account you can optionally stake to a Node or other Hedera account to benefit from Hedera ~ You will be unable to change the staked Node or Hedera Account until full staking support (support for account update operations) is added by Ledger

B) While you will be able to store and accrue HTS tokens, currently the ability to send them to other accounts is unsupported. This effectively locks those tokens to the account until full Hedera Token Service support is added by Ledger - it should be considered that ANY USE OF A LEDGER DEVICE TO STORE HTS TOKENS IS DONE SO AT YOUR OWN RISK

10. Next you need to select whether or not you want to associate the YAMGO token with your account. Please note that if you choose not to associate the YAMGO token, then you will NOT be able to receive YAMGO staking rewards and will not be able to join Club Yamgo

11. Next you have the option to open additional token association slots, this will allow your account to receive additional tokens (prior to official Ledger support). You can leave this at zero if you don't want to receive any other tokens

12. Click 'Create account' and wait for the confirmation that your account has been created
That's it, you're done and your account has now been created. Keep in mind that only the HBAR in your new account will be eligible to receive staking rewards from your node of choice.
Part 3 - Viewing, And Transferring HBAR to, your New account in Ledger Live
Want to see your new account, or transfer HBAR to it? Follow these steps
Connect your Ledger, Unlock it and open the hedera app
Open the Ledger Live App on your computer
Click "Accounts" in the menu on the left-hand side
Click the "Add Account" Button
In the dropdown menu type or find HBAR and select continue
Your Ledger will now sync with Ledger Live and you will see your new account
Give your new account your name of choice
Click the new account you have set-up and select
In the left hand menu click "Receive"
Select the Account you just created and press "continue"
Write down the address shown or press the copy button
In the left hand menu click send and select the account you want to send from
In the box underneath type or paste in the address of your new hedera account
Enter the amount of HBAR you want to send, Enter a memo if you want to, and then press continue.
Review the transaction, make sure all of the details are correct and if you are happy then press continue
Confirm the transaction on your device and you are done
Remember that per our terms and conditions Yamgo accepts no responsibility for any incorrect or errant transfers and subsequent loss of assets
Want to earn more HBAR? Join Club Yamgo and start earning YAMGO token. When you've earned 250 Yamgo token you will be eligible to claim a daily HBAR boost.